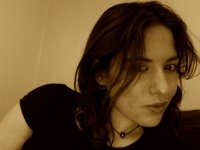 Article by Navah Fuchs
Cyrahn's newest collection weaves a magical tale of the independent woman. Each piece demonstrates her unique perspective, color palette, and level of craftsmanship. Fabrics range from cotton to leather, and styling ranges from couture to ready-to-wear pieces. She clearly has a penchant for the avant-garde, but also keeps the woman's body in mind when she is creating her masterpieces.
Cyrahn's design aesthetic weaves the person wearing the garment into the look. Whether it be a dress or separates, the new collection uses skin as readily as leather. This, along with a bold choice of colors makes the collection one of a kind and not meant for the average woman. Just as can be said of her designs, the wearer must be independent, comfortable in their skin, and full of life and laughter.
One look of note was a beautiful gunmetal dress, "Swept Away", which married the principles behind the little black dress and a tuxedo. The satin lapels and a long side pay a nod to the traditional construction of the perfect tux, while allowing the little black dress to smolder. It leaves one unsure whether the wearer will indulge in her seductive or professional side, play up the masculinity or her femininity, as well as a myriad of other dualities.
Another fascinating look was the cloudlike, white dress with a graphic of a haunted tree. This piece more than the blatantly fierce leather and lace pieces, illustrated Cyrahn's lighthearted dark sense of humor. The dress falls bellow the knee, which gives the piece a dream like innocence. The colors were there, but the garment focuses more on contrast than color specifically.
Other pieces in the collection bring to mind superheroes, executives from another world, and the little girl inside all of us just waiting to let her imagination run wild. While each look is unique, consistently bold designs, expert craftsmanship, and an affinity for color ensures there is no mistaking a Cyrahn piece.
Model: Ellie Taormina