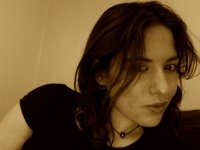 Article by Navah Fuchs
Lindsay Jones' youthful and flirty collection (Lin-Z inc.) demonstrates what can be done with a subdued color pallet. Each look finds a way to highlight the beauty spot of a woman's body, while maintaining traditional sensibilities. Her tops are unique and interchangeable with the rest of her line, which speaks to her muse: New York. The women wearing Lin-Z pieces will be glamorous, clever, and have a zest for life. It is fitting the line does not exclude any one age or occasion. Seasonal sensibilities include dresses to swimsuits.
Jones weaves flowers into designs via beaded Venice lace, sequins, and accessories. They add a bit of variety to the practical minded structure of Lin-Z inc garments.
As a custom designer, almost all of the Spring'10 collection can be worn by any woman. One particular garment of note is a beautiful halter-top dress, falling at the knee. It seems a simple cream dress, but subtly enchants with floral detail.
Yet there are a few pieces decidedly for the younger market, such as a stunning cerulean blue silhouette with an attached scarf. It highlights curves, without making the wearer look heavier. Few designers are able to dress up the everyday without slipping into the "over dressed" foux pa. The Lin-Z inc collection clearly understands where to draw the line, which bodes well for many a fashionista.
Fabrics used include khaki cotton sateen for the jackets and bottoms, charmeuse, satin chiffons, tencel, jersey knit, ruffled knits, lurex gimp lace, beaded Venice lace, cotton guipure lace, crinkled satin foil prints, and an aqua silk shadow stripe with lurex.
Jones has a romantic perspective when it comes to lace, without precluding the edge fashion craves. The more youthful top details have a chockeresque aesthetic, turning the simple to snazzy.
Some of her garments have a degree of asymmetry, adding an additional layer of visual interest.
The collection finishes with a bridal bang, showcasing beautiful curves and an elegant train. It is the crowning jewel of the collection.