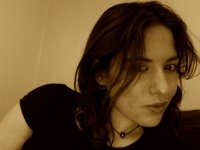 Article by Navah Fuchs
New York Fashion Week's attendees were treated to a feast of color and flair when some familiar faces and some new talent showed earlier this month. Renowned designers Andres Aquino, Jorge Dieb, and Ruben Campos showcased new reasons to celebrate their creativity, while Sarieddine made her New York Fashion Week debut.
Aquino is known for his versatility, and it showed in his 2009 collection. His arrangement had a call-response quality, which was highlighted by his rich use of color. His opening pieces had a kind of whimsical quality, which tied very nicely into his swim-wear collection. Both displayed an impeccable eye for detail and a love of the soft and billowing skirt.
On the subject of long and billowy, Dieb's Eastern inspired collection was a breath of fresh air from his usual structural silhouettes. From the moment the first model made her way down the runway, attendees were treated to a beautiful collection of exotic pieces rarely seen today. Garments ranged from day to night wear, but all of them focused on accentuating the body.
Campos showcased the full gambit of the femme fatale. His pieces told a story, playing with the different shades of gray. Beautifully slinky garments made their way along side flirty shorter dresses. Versatility of color may have been explored, but Campos showcased his talent as a craftsman.
Sarieddine's first showing at New York Fashion Week proved her to be a goddess of the asymmetrical. Whether it was a soft skirt contrasting with a tough bodice, a well-placed train, or a strategic exposure of skin, the pieces showed just as much pragmatism as they did theoretical genius. Her design aesthetic can be summed up as a simple appearance masking a complex puzzle of mythology and natural beauty.
View More Clips From New York On My YouTube Site